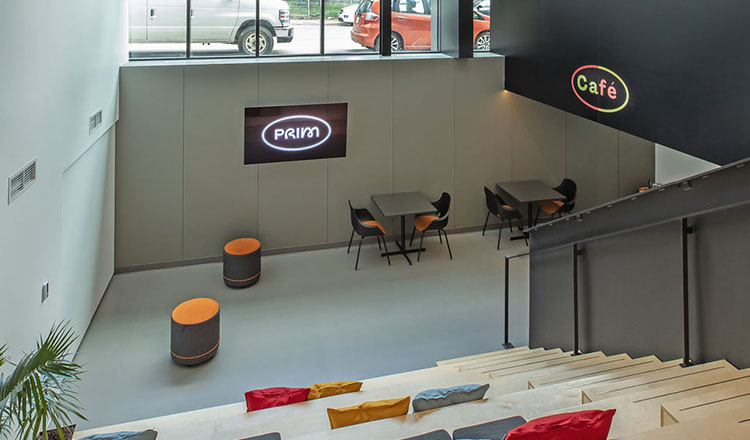 After almost 2 years of construction, the entire PRIM team is delighted to be able to welcome you to its new premises!
On the occasion of its 40th anniversary, PRIM is thrilled to announce the end of the renovation work at its centre, which allowed them to modernize their installations and to add new spaces devoted to creation in media and digital arts, which are adapted to the needs of the members and the artistic community.
New facilities
It's the beginning of a new era for PRIM, the technical and human resource centre devoted to the creation and production of independent media works. Thanks to a reflection begun in 2011, the centre has notably built a new sound mixing studio, a space devoted to research and creation in digital art and virtual reality, as well as a space for specialized training.
The project reflects the vitality and importance of PRIM as a creation and production centre in Montréal, at the service of creators since 1981. The new installations will allow them to serve a greater number of artists thanks to new creation spaces and will broaden the accessibility to the installations by a greater number of artistic disciplines. The new studios will also contribute to fostering digital art exploration by being more open to research.
PRIM is happy to be able to offer more resources to artists so they can professionalize and adapt themselves to the technological advances, encouraging encounters between local and international artists in a rewarding context of collaboration and exchanges. The project also participates in the revival and consolidation of the Faubourgs neighbourhood, an important cultural creation hub.
The Saucier + Perrotte Architectes firm, responsible for the architectural design of the new PRIM centre, is internationally renowned for the unique signature of its creations. It is notably behind the recent transformation of the Musée d'art contemporain de Montréal.
The project is financed by the Government of Canada, the Conseil des arts et des lettres du Québec, the Ministère de la culture et des communications, and the Ville de Montréal (under the Entente sur le développement culturel de Montréal), as well as PME-MTL.
A real rejuvenation for the center, which has been 95% renovated!
What better way to celebrate 40 years of PRIM?